FEATURES:
- Seawater lubricated bearing
- Envirosafe is harder than rubber and elastomers
- Fully split design options
- Low swell
- Excellent thermal stability
- Capable of high loads
- Compatible with all counter surfaces
- The half shell design creates a hydrodynamic environment at a much lower RPM
BENEFITS:
Guaranteed: no damage to the environment
Long bearing and shaft system life, minimising shaft damage and low wear
Will fit with shaft in situ (fully split version) and therefore lower maintenance costs and refits
Easy installation
Dimensional stability
Lifetime cost saving
The Wärtsilä Envirosafe (formally known as Railko Marine Ecosafe) is a non-polluting bearing system that is designed for water lubricated sterntubes and for all vessel types. A water lubricated system guarantees that the environment will not be affected.

These bearings are available in non-split, split shells or full housing and offer excellent performance covering both commercial and military applications. The material is harder than rubber or elastomeric bearing materials. It prevents sand particles embedding in its surface and damaging shaft and/or liner, thus avoiding premature bearing failure.

A variety of different supply options is available to suit the specific application.
Fully split housing bearing/housings that allow in-situ replacement and repair.
Also available, Wärtsilä PSE & FSE seal for water lubricated sterntubes.
Chockfast Orange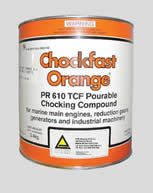 | | |
| --- | --- |
| | Also available from C.E.& A. Co. |
| Propeller Shaft and Rudder Bearings | Propeller Shafts |
| Sterntubes and Rudder Trunks | Rudder Carrier Bearings |
| Oil Lubricated Shaft Seals | Deck Machinery |
| Water Lubricated Shaft Seals | Chockfast Orange |
| ManeCraft - small boat seal | Polyflex- Engine Mounts and Couplings |
| Vickers Marine Oils | Arctic Steel Water Strainers |
| Spurs - Rope, Net and Weed Cutter | Home Page |
For further information, or to purchase Envirosafe bearings please contact us